Wilfried Bony says his two sons convinced him to return to Swansea City because the club is « like a family ».
The Ivory Coast striker returned to the Liberty Stadium on deadline day for £12m after leaving for Manchester City in 2015 in a £28m deal.
Bony scored 34 goals for Swansea, but has scored only 12 since.
« I think my boys decided, » Bony said. « They heard about the interest and said 'Daddy you have to go back to Swansea'. So my boys chose Swansea. »
The 28-year-old added: « There were other options, Lille, Fenerbahce and others, but most important was what my family said. »
'No regrets'
Bony was one of the most sought after strikers in the Premier League prior to his move to the Etihad Stadium, but he does not look back on his time in Manchester with any regret even though he only started 15 league games for City before an unsuccessful loan move to Stoke last season.
« The most important thing is to stay fit, » Bony added.
« I wasn't fit enough there, so when you're not fit enough and you get a chance you push yourself maybe too much and your body isn't going to react well to that.
« Sometimes you can then mentally or physically get problems.
« I had good moments there, but personally I wish to do better than this, but things weren't going my way so I'm now trying to move forward.
« I don't regret the move, it was good for me to have another experience. »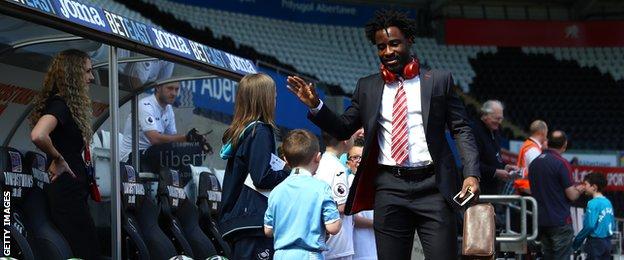 'So come on… Score some goals for Swansea'
Bony's return has been greeted with excitement by Swansea supporters, the Ivorian being a hugely popular figure during his first spell.
The club announced his re-signing with a video on social media of the striker singing the chant created by the Swans fans which boss Paul Clement admitted he « couldn't get out of my head ».
Bony said added: « Even when I went to City and came back here, I was warming up and they were still singing that and that was a great feeling.
« When I came back I didn't think they'd put that video on social media! That was crazy.
« That is double motivation for me [to hear the fans sing the song again].
« What I want is to do my best for the team to win and then we can enjoy the rest. »
He was also delighted when Swansea won their battle to survive in the top flight last season
« I completely supported them [Swansea] and wanted them to stay in the Premier League, » said Bony.
« I crossed my fingers for them in the last five games. I just wanted Swansea to stay up. »