Liverpool manager Jurgen Klopp said Mohamed Salah was « on his way » to being mentioned in the same breath as Lionel Messi after he scored four goals against Watford on Saturday.
Salah is now the leading goalscorer in Europe's top five leagues – overtaking Barcelona's Messi and Tottenham striker Harry Kane.
But according to Klopp, the 25-year-old Egyptian is focused on his own game.
« I don't think Mo wants to be compared with Lionel Messi, » he said.
« Messi has been doing what he's been doing for what feels like 20 years or so.
« The last player I know who had the same influence on a team performance was Diego Maradona.
« But Mo is in a fantastic way, that's for sure. As it always is in life, if you have to have the skills you have to show that constantly and consistently, and he is very good. »
Yet in just nine months, Salah has scored 36 goals for the Reds – the most by a single player in their debut season at Anfield – and sits on 28 for this Premier League campaign with seven games still to play.
Former Liverpool captain Steven Gerrard believes « we are witnessing the start of greatness ».
But such are Salah's similarities with the Argentine great, that even his goals are starting to resemble Messi's.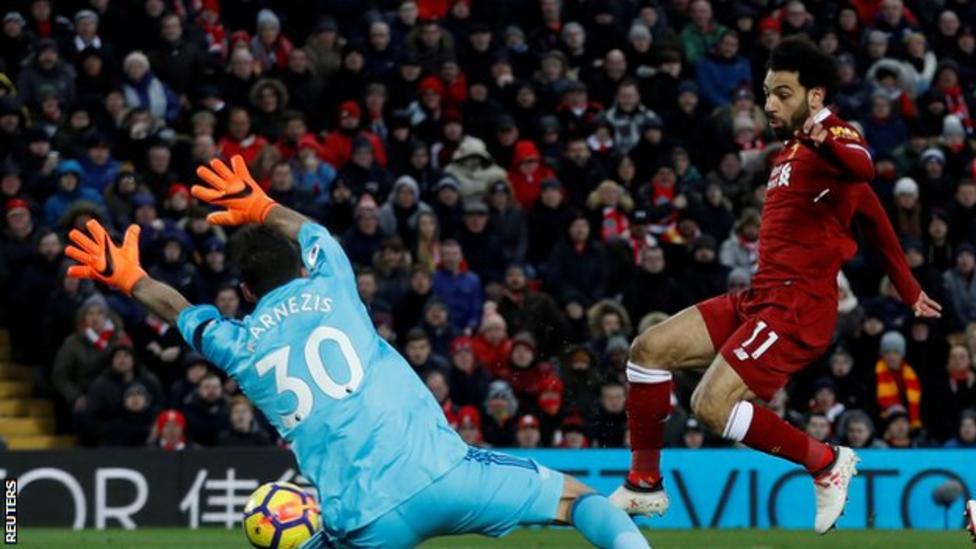 It took just four minutes for Salah to open the scoring against Watford, jinking his way through the Hornets' defence and leaving Miguel Britos on the floor before firing home.
It was eerily reminiscent of a goal Messi scored against Bayern Munich in the 2015 Champions League semi-final, when he left Jerome Boateng sprawled on the turf.
But Salah remains humble about his talents, thanking his team-mates and saying a clean sheet against Javi Gracia's side was « most important ».
« Mo is in a fantastic way, that's for sure, » Klopp added. « The boys love playing together with him, and he loves playing with them. »
Highest goalscorers in top five European leagues (Source: Opta)
Player
Goals
Mohamed Salah
36
Harry Kane
35
Lionel Messi
34
Ciro Immobile
34
Edinson Cavani
33
Cristiano Ronaldo
33
Robert Lewandowski
32
Sergio Aguero
30
Neymar
28
A tough act to follow
At 25, Salah has a long way to go to match Messi's achievements.
He played in three Premier League games as former club Chelsea won the title back in 2015 and he was part of a double-title winning Basel side in the Swiss top flight between 2012 and 2014.
The winger also helped guide Egypt to their first World Cup finals in over a quarter of a century when he netted a 95th-minute penalty in a 2-1 win over Congo.
But Messi – who some say played in one of the greatest Barcelona teams of all-time – had already picked up six league titles, three Champions League trophies and an Olympic gold medal by the age of 25.
He is also a five-time Ballon d'Or winner.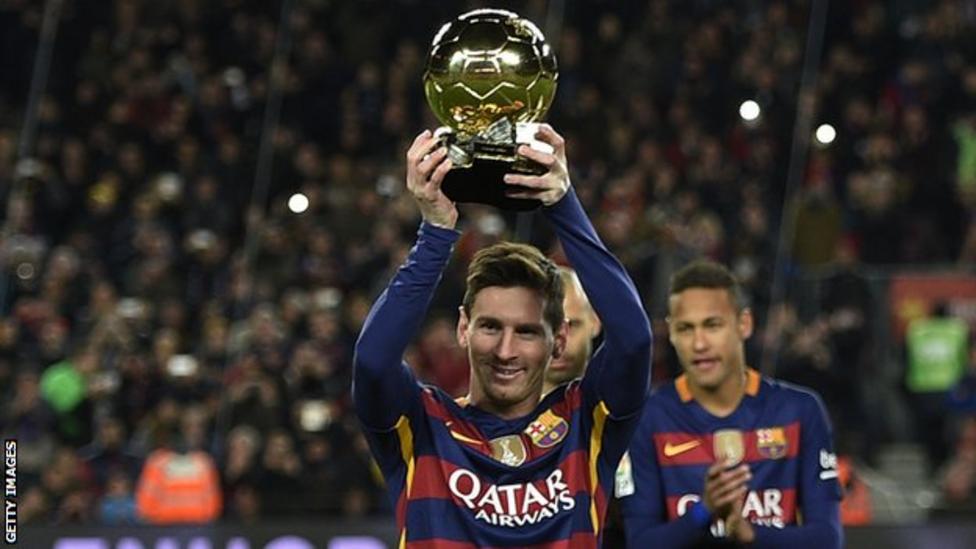 Salah – the record-breaker
Salah has scored 36 goals for Liverpool in all competitions – the most by a single player in their debut season for the Reds.
He has scored 28 Premier League goals this season – only one African player has managed more in a single campaign (Didier Drogba's 29 in 2009-10).
Salah is the first Egyptian player to score a Premier League hat-trick, with Egypt the 43rd nation overall and the 10th African country to provide a hat-trick scorer in the competition.
The winger scored four goals from his four shots – the first player to do so in the Premier League since Andrey Arshavin in April 2009, also at Anfield.
How Salah contributed to all five goals against Watford
4 mins: Liverpool take the lead as Salah leaves Miguel Britos on the floor after dribbling past him and firing low into the bottom corner.
43 mins: Salah taps in a cross from the left from Robertson on the stroke of half-time.
49 mins: Firmino's delicate flick beats Orestis Karnezis at the near post after a cross from Salah.
77 mins: He pokes the ball past Karnezis to score his hat-trick.
85 mins: Salah's left-footed strike from the centre of the box finds the roof of the net.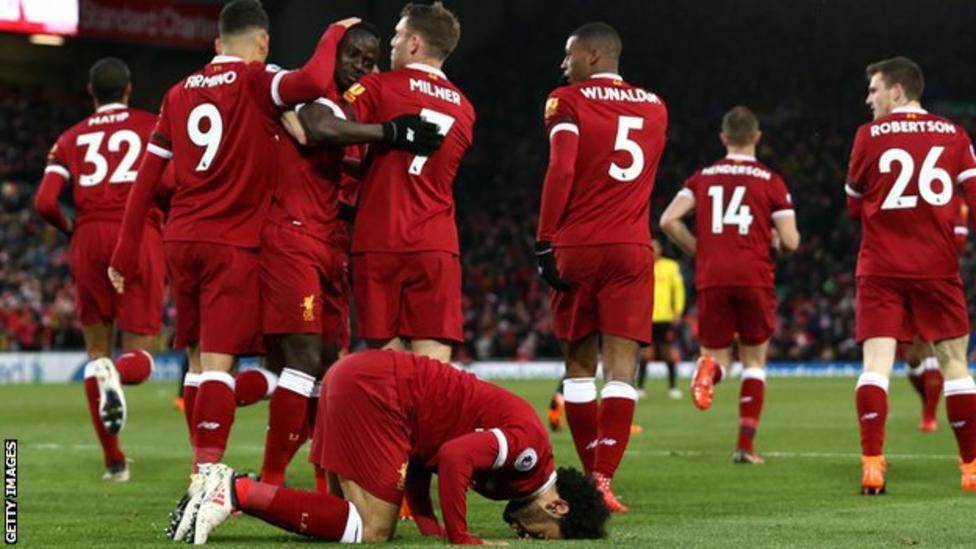 'An absolute bargain' – the reaction
Match of the Day pundit Martin Keown: « He is causing carnage for defenders – the way he runs with the ball is so calm, defenders are falling over in front of him.
« He will run for anything. He is strong. He is a constant threat and he gets better and better.
« It has been a remarkable debut season for Liverpool – what would be his value now? »
Match of the Day pundit Shay Given: « What a player he is – he looks like the complete player and the £34m Liverpool paid for him looks like an absolute bargain. It will be interesting to see if they can keep him in the summer. All the big clubs in Europe will be looking at him. »
Former Liverpool striker Michael Owen: Scoring goals has always been regarded as the hardest part of the game. Mo Salah is starting to make me question that statement.
Former England striker and Match of the Day presenter Gary Lineker: Seems crazy to say that a £37.5m signing is an absolute bargain, but how much would Mo Salah cost now? What a player.
Guy: Salah will be in a Barcelona shirt in the summer at this rate!
Deldude: Phenomenal. That is how to describe Mo Salah. Took out four Watford players. I still weep every time I see that red shirt on him, it should be blue…
Briyan: Salah recreating Messi vs Boateng genius there. The guy is absolutely lit.
Goal